In 2018 Sweden faced the hottest July in 250 years. As a result more than fifty large wildfires raged throughout much of Sweden, covering in total 250 km2 (100 square miles)
Due to the immensity of the fires, a call for assistance went out via the European Union's Civil Protection Mechanism. Portugal's National Authority for Civil Protection (ANPC) loaned two of the Tondela, Portugal based Agro-Montiar Fire Bosses it had on contract.
Operations began on July 26 and were actively involved in fighting wildfires until July 30. By that time the crisis in Sweden was under control with help from rains that extinguished most of the fires.
Mission totals included 27 hours over the fire, 356 water drops, 4.5 minutes between drops, and over 282,135 USG (1,068,000 L) delivered with 2 Fire Bosses.
Fleet of two Fire Bosses scoooped and dropped in a circuit
Maintained 100% fleet operational readiness
Scooped from Nora Lake and others lakes available in the wider Örebro area
Average of 5.5 mi (9 km) between fire and scooping site for a 4.5 minute circuit time
On average, dropped over 793 USG (3,000 L) every 4.5 minutes achieving an impressive 13 drops per hour. That equaled 10,566 USG (40,000 L) of water delivered every hour of firefighting operations.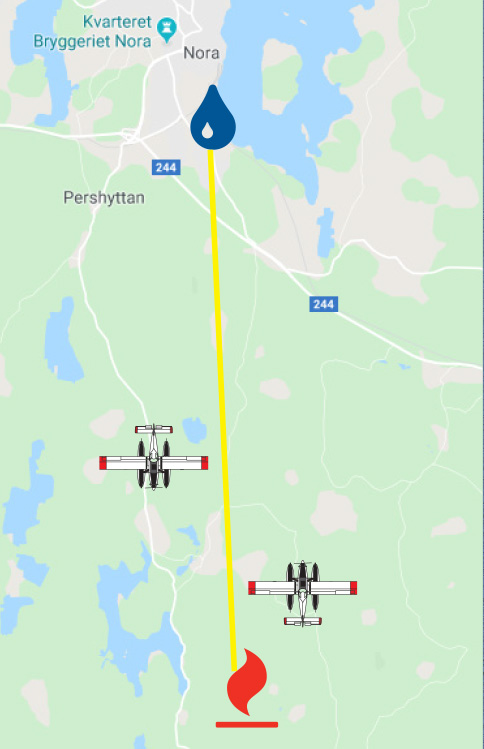 | | | | | | | |
| --- | --- | --- | --- | --- | --- | --- |
| | Total Time | Fire Time | Drops | Min. per Drop | Total Water Dropped | Water Dropped per Hour |
| 7/26/2018 | 19:00:00 | 8:20:00 | 116 | 4.3 | 91,932 USG / 348,000 L | 11,058 USG / 41,860 L |
| 7/27/2018 | 20:30:00 | 14:10:00 | 184 | 4.6 | 145,823 USG / 552,000 L | 10,337 USG / 39,130 L |
| 7/30/2018 | 7:00:00 | 4:30:00 | 56 | 4.8 | 44,381 USG / 168,000 L | 9,906 USG / 37,500 L |
| Totals | 46:30:00 | 27:00:00 | 356 | 4.5 | 282,136 USG / 1,068,000 L | 10,566 USG / 40,000 L |
Video Footage From Pilot Eder Navacerrada